Giggle Gang Event Series
2014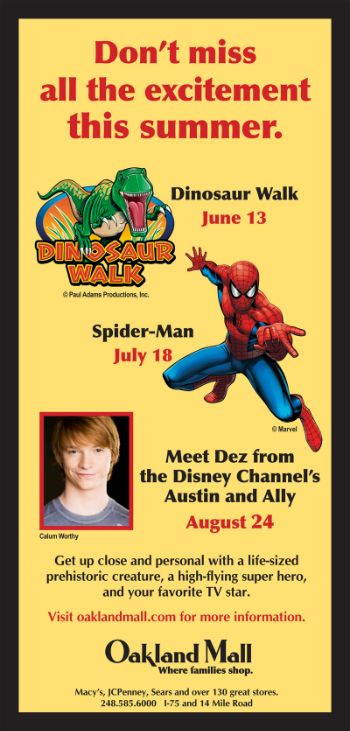 Hey, Giggle Gang!
Get up close and personal with a life-sized prehistoric creature, a high-flying super hero, and your favorite TV star. Be sure to watch OaklandMall.com for more event details as each one gets closer.
Not a Giggle Gang Member?
It's FREE!
Click here to get more infomation and sign up for free.
Dinosaur Walk
June 13th
Rexie, our favorite baby T-Rex is coming for an exciting day filled with
"oohs" and "ahhs" as she walks and stands at over 8 feet tall.
Check back for event details.
Spider-Man
July 18th
One of the greatest super heroes of all time is swinging in to
spend the day hanging around with the Giggle Gang kids.
Check back for event details.
Callum Worthy
August 24th
Meet your favorite TV star, Dez from the Disney Channel's Austin & Ally.
Check back for event details.
Field & Stream Specialty Store to Open Early 2015
Early 2015

Oakland Mall Announces Field & Stream Specialty Store
to Open Early 2015

Troy, Michigan (May 14, 2014). – Oakland Mall unveiled today that Field & Stream, a specialty retail concept carrying the best brands to meet the evolving needs of hunters, anglers and outdoorsmen will open a new store on the exterior ring road of the mall in 2015.
The Oakland Mall store is expected to open March 2015. At the Field & Stream store, you will find a complete assortment of gear from the best names in the business. The store will be home to several departments, including hunting, paddling, fishing, camping and a gun and archery shop.
"At Urban Retail, we strive to bring unique retail concepts to the community and we are excited that Field & Stream selected Oakland Mall as its first Michigan location," said Paul Motta, Chief Operating Officer of Urban Retail Properties, LLC, owner/operators of the Oakland Mall. "Field & Stream will deliver a high level of service for the passionate outdoorsmen in the tri-state area providing them with the best brands and products available. It will undoubtedly be a huge favorite with our shoppers."
About Oakland Mall:
Oakland Mall is a super-regional shopping center located on the northwest corner of John R and 14 Mile Road. The center features 128 shops and services along with Macy's, Sears and JCPenney. Shopping hours are 10 am – 9 pm Monday through Saturday and 11 am – 6 pm on Sunday. Visit www.oaklandmall.com for more information.

About Urban Retail Properties, LLC:
Urban Retail Properties, LLC is one of the nation's leading third-party real estate management firms, specializing in regional malls, community centers and big box portfolios. Headquartered in Chicago, IL, Urban currently manages and leases a diverse portfolio with more than 40 properties in 17 states, totaling over 18 million square feet of retail space. For more information about the company, please visit www.urbanretail.com.