Giggle Gang 2015 Event Series
2015 Giggle Gang Event Series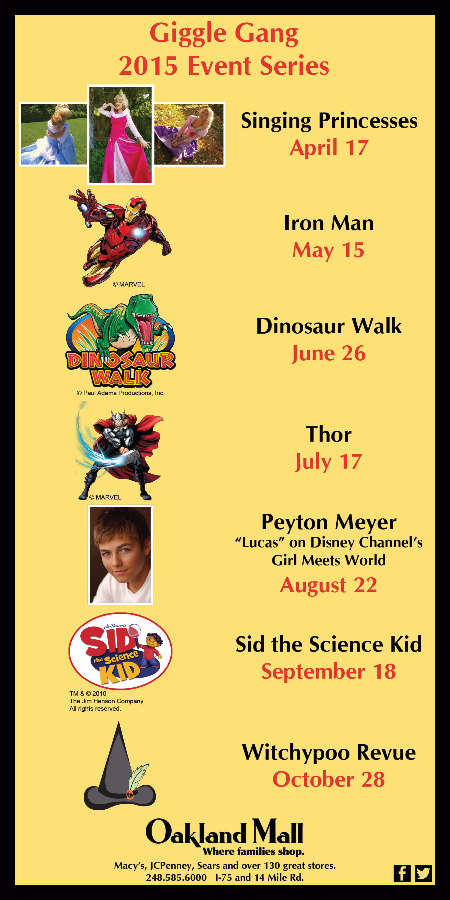 Giggle Gang 2015 Event Series
We are excited for a great year of Giggle Gang events! Come meet your favorite characters for fun throughout the year. Check out the schedule of events and save the dates! More event details to come as each event approaches.
For the most current news about events, join the Giggle Gang and provide an email address where you would like to receive information. Membership in the Giggle Gang is FREE, and gives you FREE tickets/admission to events. Click here to join!
You can also follow us on Facebook & Twitter for the latest news!
2015 Event Series Lineup
Singing Princesses
April 17
Delight in a special time of singing and royal entertainment with Cinderella, Sleeping Beauty, and Rapunzel.
Iron Man
May 15
Meet the superhero in the high-flying suit of armor, Iron Man.
Dinosaur Walk
June 26
Rexie, a life-like, life sized Tyrannosaurus Rex, returns to amaze & captivate.
Thor
July 17
See the man with the mighty hammer.
Peyton Meyer
"Lucas" on Disney Channel's Girl Meets World
August 22
Get an autograph & take a photo with one of our favorite Disney Channel stars.
Sid the Science Kid
September 18
Meet your favorite inquisitive youngster.

Witchypoo Revue
October 28
Our favorite not-so-scary Halloween characters return to sing, dance, and delight in a spooktacular show.
Meet Peyton Meyer
Saturday, August 22nd | 12pm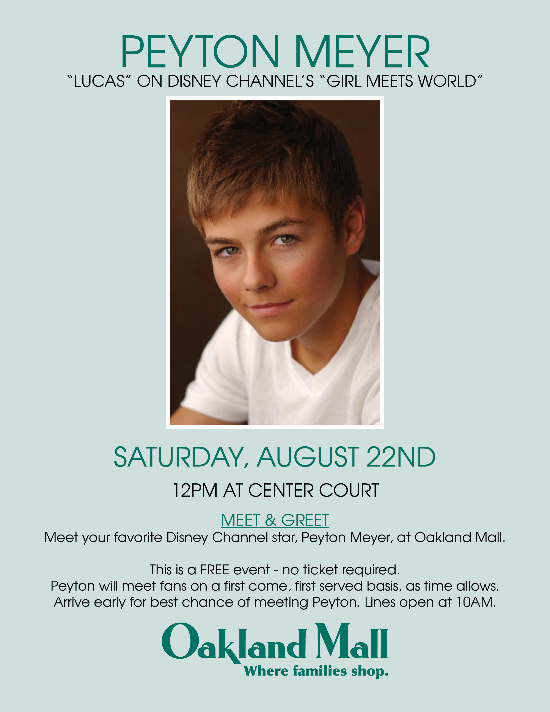 PEYTON MEYER
"Lucas" on Disney Channel's "Girl Meets World"
SATURDAY, AUGUST 22ND
12PM at Center Court
MEET & GREET
Meet your favorite Disney Channel star, Peyton Meyer, at Oakland Mall.

This is a FREE event - no ticket required.
Peyton will meet fans on a first come, first served basis, as time allows.
Arrive early for best chance of meeting Peyton. Lines open at 10AM.