Oakland Mall Express Train
Holiday Season
Ride the Oakland Mall Express train at Center Court throughout the holiday season! Read below for current hours, ride token prices, story times, and craft activities!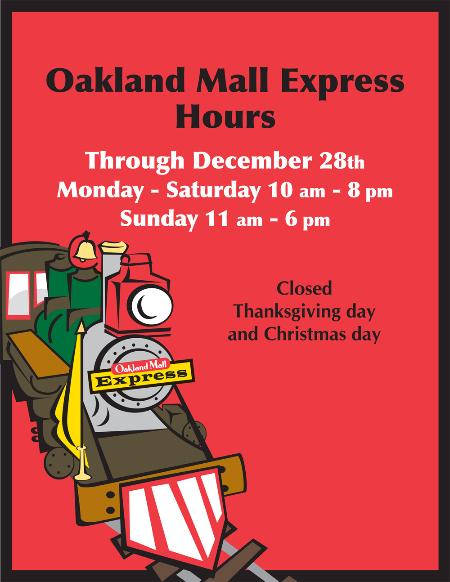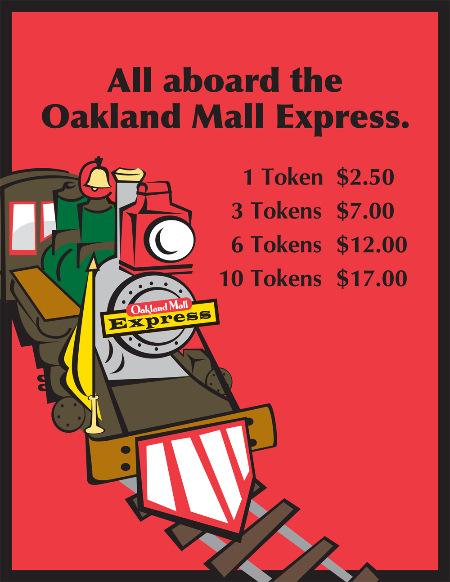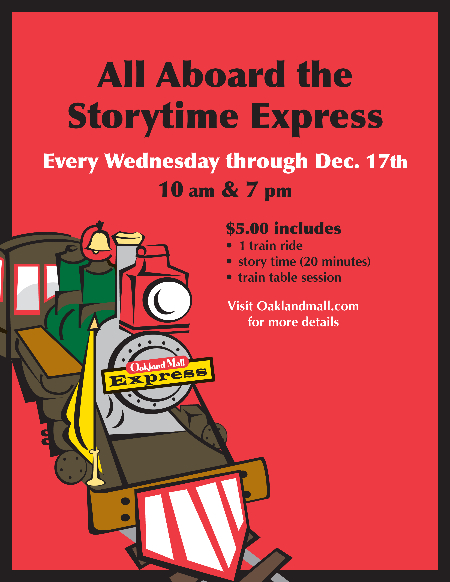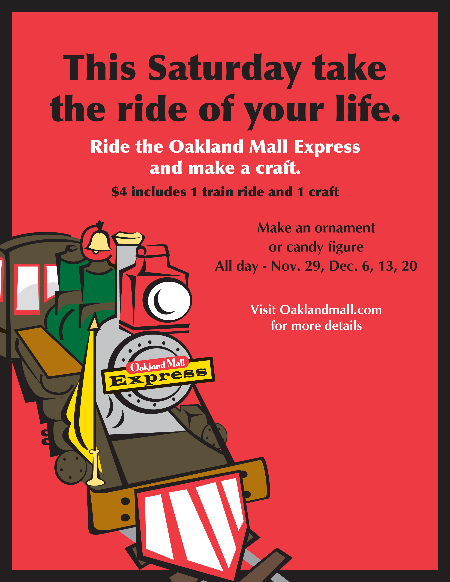 Visit Santa
See Event Details for Hours of Operation
Visit Santa at Oakland Mall
Free visits, free hugs, free smiles!
Hours of Operation
December 12th- 23rd
Monday- Sunday
10:00am- 9:00pm
Closed for Breaks: 12:00- 12:45pm & 3:45- 4:30pm
Christmas Eve (Dec. 24th)
9:00am- 5:00pm
Closed for Break: 1:00- 1:45pm
CLOSED CHRISTMAS DAY
Photo Packages
Capture the memory of your visit with Santa with a photo to keep and share with loved ones. See below for photo package options
Exclusive Web Offer - Best Value
Click here to purchase our online package for the best value. Simply follow the instructions to make your purchase online, then bring your email confirmation code when you visit Santa by December 18, 2014 to get your photo package.
Santa's Special
Get everything you wish for with this popular portrait package, only $24.99.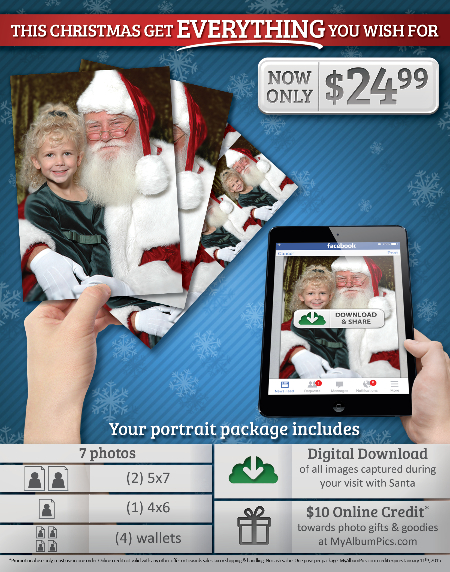 Free $20 Oakland Mall Gift Card*
Starting December 1st | While Supplies Last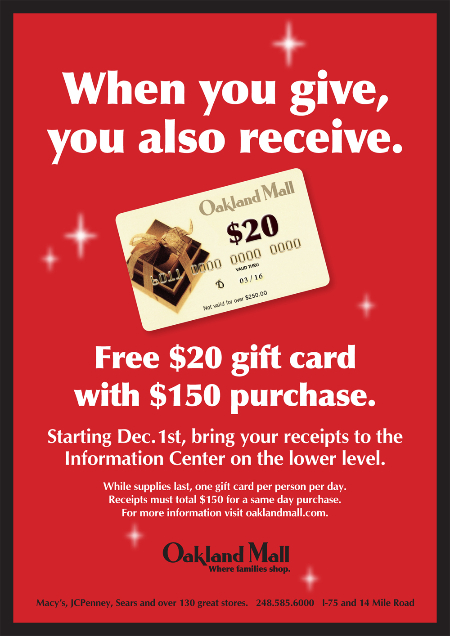 When you give, you also receive.
Get a free $20 Oakland Mall gift card with a $150 purchase.
Starting December 1st, bring your receipts to the Information Center on the lower level. Receipts for Oakland Mall stores & restaurants totaling $150 or more for a same day purchase can be redeemed for one $20 gift card.
While supplies last. One gift card per person per day. Receipts must total $150 for a same day purchase. Cannot split receipts. Must claim free gift card on the same day of $150 purchase, no exceptions.
Extended Holiday Shopping Hours
Through 1/1/15
For your convenience, Oakland Mall is open extended holiday hours. Department store and restaurant hours may vary.
| | | |
| --- | --- | --- |
| Monday | 12/8 | 10am- 9pm |
| Tuesday | 12/9 | 10am- 9pm |
| Wednesday | 12/10 | 10am- 9pm |
| Thursday | 12/11 | 10am- 9pm |
| Friday | 12/12 | 10am- 10pm |
| Saturday | 12/13 | 9am- 10pm |
| Sunday | 12/14 | 11am- 8pm |
| Monday | 12/15 | 9am- 10pm |
| Tuesday | 12/16 | 9am- 10pm |
| Wednesday | 12/17 | 9am- 10pm |
| Thursday | 12/18 | 9am- 10pm |
| Friday | 12/19 | 9am- 10pm |
| Saturday | 12/20 | 9am- 10pm |
| Sunday | 12/21 | 10am- 9pm |
| Monday | 12/22 | 9am- 10pm |
| Tuesday | 12/23 | 9am- 10pm |
| Wednesday | 12/24 | 9am- 6pm |
| Thursday | 12/25 | CLOSED |
| Friday | 12/26 | 9am- 10pm |
| Saturday | 12/27 | 10am- 9pm |
| Sunday | 12/28 | 11am- 6pm |
| Monday | 12/29 | 10am- 9pm |
| Tuesday | 12/30 | 10am- 9pm |
| Wednesday | 12/31 | 10am- 6pm |
| Thursday | 1/1 | 10am- 6pm |